Welcome to Grace & Holy Trinity Cathedral!
Grace and Holy Trinity Cathedral is a thriving, growing Episcopal parish in downtown Kansas City, Missouri. Guests and newcomers are always welcome. We are an inclusive community encompassing young and old, rich and poor, single and married/partnered, gay and straight. We are united by our witness of Christ's redeeming love and the challenge of leading faithful lives in our complex world. We are a Stephen Ministry » congregation.
Our Mission is to be a Servant Church in the Heart of the City

Find out more about Grace and Holy Trinity Cathedral Here »
Update your contact information »
Autumn at the Cathedral
Autumn at the Cathedral
Join us for many exciting activities and events happening at the Cathedral! Visit the following pages for more details: Adult Formation » Upcoming Music Events » Other Activities »
Upcoming Music Events

Please join us!
The Cathedral will be hosting many exciting musical events in the coming months. For all the details, visit the Upcoming Music Events page. »
Fall Saints Festival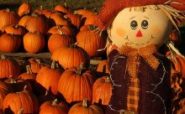 October 28
Come to church dressed as your favorite saint (or another costume) and stay after the 10:15 a.m. service for a potluck lunch. The Cathedral will provide hot dogs, brats and vegetarian dogs; please bring a side dish to share. Activities will include a bounce house and pumpkin decorating!