Welcome to Grace & Holy Trinity Cathedral!
Grace and Holy Trinity Cathedral is a thriving, growing Episcopal parish in downtown Kansas City, Missouri. Guests and newcomers are always welcome. We are an inclusive community encompassing young and old, rich and poor, single and married/partnered, gay and straight. We are united by our witness of Christ's redeeming love and the challenge of leading faithful lives in our complex world. We are a Stephen Ministry congregation.
Our Mission is to be a Servant Church in the Heart of the City

Find out more about Grace and Holy Trinity Cathedral Here »
Parish Picnic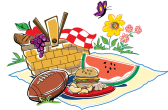 Pentecost Sunday, June 4 • 11:45 a.m.
Brats and hot dogs are provided. Please bring a dish to share (salad, side or dessert) and lawn chairs. Come for Pentecost and stay for the picnic. Dress casually and enjoy this time of fellowship!
June Diaper Drive
You can help ensure babies have access to clean, dry diapers that keep them healthy and happy by bringing new or already opened diapers to the blue bin in the cross-tower during June.

Thank you for your continued support of HappyBottoms!
The Saint John's Bible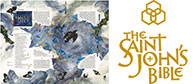 We are very pleased to announce that an anonymous donor is making a gift of the entire seven volume heritage edition of the Saint John's Bible to the Cathedral.
Read more »