Adult Formation
Dean's Forum
Sundays, 9:15 a.m., Founders' Hall
May 3, Elizabeth Boe, Officer: Global Networking with the national Episcopal Church, will speak on her work with global partnerships.
May 10, we welcome Rev. Barbara Crafton.
May 17, we begin "It's in the Book," a look at the many treasures and resources for prayer found in the Book of Common Prayer. Someone referred to the less well known parts of the Prayer Book as "beyond the dirty pages!" (the outside edges of the center pages containing The Holy Eucharist in the Prayer Book are almost always soiled due to continual use). Come ready to mine the rich treasures of the Book of Common Prayer.
---
Education for Ministry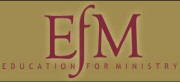 Education for Ministry (EfM) is a program of study, prayer and reflection which is coordinated by the School of Theology at the University of the South. It is designed for laypersons who want to gain a better understanding of scripture, theology and themselves.
EfM is a four-year course of study, but you sign up one year at a time. The first year studies the Old Testament, second year the New Testament, and third and fourth years cover church history, liturgy, philosophy and theology. The groups meet once each week during the school year with the guidance of trained mentors. Meetings include worship, fellowship, study, discussion and theological reflection.
Groups tend to become close and safe communities where people feel comfortable considering their own personal theology. Exploration and questions are welcome, and thoughtful reflection and discussion often provide new insight into participants' faith and life.
Grace and Holy Trinity Cathedral hosts EfM beginning each the fall. The program currently costs $340 per year. Study materials are provided. If you are interested, contact Steve Johnson (tuesdayefm@gmail.com).