Adult Formation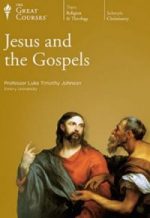 Adult Forum
Jesus and the Gospels
Sundays, April 8–July 15
9:15–10:10 a.m. • Common Room
The figure of Jesus has tantalized both Christians and non-Christians who have sought definitive answers to questions about his words, his acts and even his very existence. For most of the last 2,000 years, the search for those answers has begun with the Gospels, but the Gospels themselves raise puzzling questions about both Jesus and the religious movement within which these narratives were produced. They also provide sometimes bewilderingly diverse images of Jesus.
"The unexamined faith is not worth believing."
---
Abiding Prayer
God is Love: The Heart of All Creation
Mondays, April 9–June 25
7:15–8:30 p.m. • Common Room
God is Love: The Heart of All Creation series continues and builds on the works of Thomas Keating over the past 30+ years, beginning with the Spiritual Journey series. It offers a vision of hope and a view of reality that at once integrates the sciences, religion and humankind's place in the cosmos as divine in origin, unifying in purpose and unfolding in its grandeur.
Please contact Jerry Grabher for more information, j.grabher3@gmail.com or 816.590.6205.
---
Women's Bible Study
The Social Justice Bible Challenge
Tuesdays
12:30–1:30 p.m. • Common Room
The Social Justice Bible Challenge, which is available in the Cathedral Bookstore for $15, features 40 Bible passages with reflections by spiritual leaders and writers from around the world, along with questions to help initiate discussions and prayers.
Each week, members of the group read a passage and reflection aloud at the beginning of the hour…and then see where the spirit takes them. Usually the group completes discussion of one passage/reflection per week. Sometimes more, sometimes fewer. Women's Bible Study meets weekly on Tuesdays at 12:30 p.m. in the Common Room. All are welcome. If you have the inclination, but not the book, come anyway and someone will share!
---
The Way
Wednesdays (starting again in the Fall)
6–8 p.m. • Founders' Hall
Interested in the Christian faith? Curious about Anglicanism?
Then join us for The Way, Wednesdays from 6–8 p.m. Featuring a home-cooked meal, conversation and bible study, The Way is a community for people just beginning the journey of faith as well as those looking to strengthen their faith. All are warmly invited.
6 p.m.—Dinner and Conversation
6:30 p.m.—Interactive Learning
7 p.m.—Bible Sharing
7:50 p.m.—Compline
8 p.m.—Dismissal
The main goal of The Way is to provide participants with good practices and sound information for a meaningful life in Christ. Childcare is available upon request.
If you would like to know more about this and have questions, contact Marco Serrano, Young Adult Coordinator, mserrano@kccathedral.org.