Adult Formation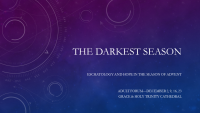 Adult Forum
The Darkest Season of the Year: Eschatology and Hope in the Season of Advent
Sundays, December 2–23
9:15–10 a.m. • Common Room
Fleming Rutledge has described Advent as "the season for contemplating the judgment of God. Advent is the season that, when properly understood, does not flinch from the darkness that stalks us all in this world. Advent begins in the dark and moves toward the light—but the season should not move too quickly or too glibly, lest we fail to acknowledge the depth of the darkness." Deacon Marco Serrano will lead this adult forum.
---
Women's Bible Study
Luke for Everyone
Tuesdays
12:30–1:30 p.m. • Common Room
Women's Bible Study meets for an hour or so on Tuesdays at 12:30 p.m. in the Common Room. At the beginning of each session, members of the group read a passage from the current selected book or study guide and then see where the spirit takes them. Discussions are lively, thought-provoking, and often irreverent.  All are welcome. If you have the inclination, but not the book—come anyway and someone will share!
Commencing in Advent and coinciding with the beginning of Lectionary Year C, the group will use Luke for Everyone by the Right Reverend N. T. Wright, Bishop of Durham (Church of England) as the inspiration for its weekly discussion. The book is now available in the Cathedral Bookstore.
---
The Way
Wednesdays
6–8 p.m. • Founders' Hall
Interested in the Christian faith? Curious about Anglicanism?
Then join us for The Way, Wednesdays from 6–8 p.m. Featuring a home-cooked meal, conversation and Bible study, The Way is a community for people just beginning the journey of faith as well as those looking to strengthen their faith. All are warmly invited.
6 p.m.—Dinner and Conversation
6:30 p.m.—Interactive Learning
7 p.m.—Bible Sharing
7:50 p.m.—Compline
8 p.m.—Dismissal
The main goal of The Way is to provide participants with good practices and sound information for a meaningful life in Christ. Childcare is available upon request.
If you would like to know more about this and have questions, contact Deacon Marco Serrano, Young Adult Coordinator, mserrano@kccathedral.org.