Advent and Christmas at the Cathedral
Advent and Christmas:
Moving and Joyous Seasons at Grace and Holy Trinity Cathedral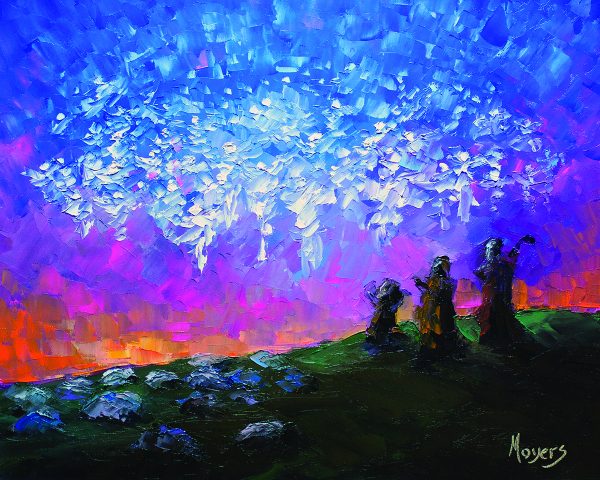 Join us as we anticipate and celebrate the birth of Jesus.
Cathedral Events during Advent
Christmas Tree Decorating
Sunday, December 8 • 11:30 a.m.
We will be making Advent prayer chains for our Founders' Hall Christmas tree.
Youth Network Event at Bishop Spencer Place
Saturday, December 14
GHTC Youth will join with the Network youth for caroling and outreach.
Messiah Singalong
Saturday, December 14 • 4 p.m.
Everyone is invited to join the chorus and sing for this annual presentation of Handel's most celebrated work. Bring your own score, or purchase one here for $10, and join conductor Dr. Paul Meier, professional soloists and members of the Kansas City Baroque Consortium in what is sure to be a memorable event. Admission is free.
One & Only Pageant Rehearsal
Sunday, December 15 • 11:45 a.m.–12:15 p.m.
Children are encouraged to come to the One & Only Rehearsal—it helps to have people who know what's happening! Meet in the back of the Nave following the 10:15 a.m. service.
Advent Lessons & Carols
Sunday, December 15 • 5 p.m.
The Trinity Choir, lectors and clergy of Grace and Holy Trinity Cathedral present a service of Advent Lessons and Carols. Join us as we prepare for Christmas with this uniquely beautiful Anglican liturgy of hymns, readings, anthems and carols. Nursery care will be available for children four and younger.
Visit our Upcoming Music Events page for a complete list of musical highlights during Advent.
Christmas Worship
Christmas Eve Pageant and Eucharist
Tuesday, December 24 • 5 p.m.
Our children tell the Christmas Gospel story through their pageant. All children are welcome to participate in the pageant. There are no lines to learn, and simple costumes will be provided. Children should meet in the Common Room at 4:30 p.m.
The Eve of the Nativity of Our Lord Jesus Christ and Eucharist
Tuesday, December 24 • 10 p.m.
Join us as we celebrate the birth of Christ. Traditional, familiar carols and service music will be featured.
The Nativity of Our Lord Jesus Christ and Eucharist
Wednesday, December 25 • 10:15 a.m.
Greet the Incarnate Lord on Christmas morning with a celebration of Holy Eucharist with carols and organ music.
Formation during Advent
Youth Formation
Sundays in Advent • 9:30 a.m.
During the season of Advent, the Sunday morning Bible Study will include Advent reflections.
Wednesday, December 11 • 7 p.m.
The annual festive Advent dinner and end of semester celebration will be held on Wednesday, December 11.
Children's Formation
Sundays in Advent
Children in Chapel and Godly Play will use an Advent wreath to prepare for Christmas. Chapel lessons will follow the lectionary readings. In Godly Play, the children will hear stories which will move toward Bethlehem and the lighting of the Christ candle on the Advent wreath. The Trinity Children's Choir will sing during the 10:15 a.m. service on December 8 and at the 5 p.m. service on December 24.
Adult Formation
Remarkably Bold—Daringly Different: The Saint John's Bible
December 1, 8, 15 & 22 • 9:15 a.m.
Come to experience the story of the most extensive scribal commission in the world since the end of the Middle Ages. Newsweek magazine has called The Saint John's Bible "America's Book of Kells." Smithsonian magazine described it as "one of the extraordinary undertakings of our time." GHTC is fortunate to own one of the few exact replicas of this remarkable treasure and our docents are eager to tell you about it. Visit the Adult Formation page for details about each week's focus.
Volunteer • Donate
Bring Food for St. Mary's Pantry
Help stock the pantry for the holidays. Bring donations to the large basket in the Tower. Please focus on canned/boxed items appropriate for a holiday dinner, such as French-fried onions, canned sweet potatoes, canned cranberry sauce, canned pie fillings and boxed cake mixes, etc.
Help needed for BackSnack during the holidays!
Make the holidays happier for others by volunteering. Help by preparing bags for our weekly BackSnack deliveries, filling family bags on December 15 for BackSnack children for the two-week Christmas break or volunteer to be substitute drivers, delivering packed BackSnacks to schools.  Contact Terri Curran, tcurra2@yahoo.com or 816.444.0221.
The Kansas City Community Kitchen Christmas Dinner and Free Store—Saturday, December 21, 11:30 a.m.
Sign up to volunteer at the dinner and to donate funds and items for the warm clothing "Free Store." Contact Terri Curran, tcurra2@yahoo.com or 816.444.0221.
Gifts for Flowers & Greens

Flowers and Greens designed and provided by Trapp and Company will once again adorn the Cathedral. Your gift in memory of or in thanksgiving for a loved one helps provide festive decorations for Christmas Eve through The Feast of the Epiphany.  This visual proclamation of the glory of the Incarnation adds so much to our celebration of the birth of Jesus Christ.
Please use the Gifts for Christmas Flowers & Greens envelopes you can find in the Nave or contact the Cathedral office with the following information:
The names of those you wish honored or the blessing(s) you wish to name.
Your name as donor (optional).
Please contact us or return the envelope to the office by Sunday, December 22. A full list of all donations will be published at Epiphany.
Thank you for your generous gift in celebration of Christmas!