Things to Know about the Cathedral's Response to COVID-19
Resuming In-Person Services Survey Results
Thank you for your input as we make plans to gather at the Cathedral for worship. We had 117 responses representing all three services. This will help us determine how many services we need to have to accommodate everyone who wishes to come to services. Some of you may not be comfortable coming out and joining public gatherings, and that is perfectly fine. These are choices you need to make for yourselves and do what feels comfortable. At this point we still do not know when this will happen, but we continue to monitor the situation every day.
Thank you for sharing your thoughts with us. Results can be found here.
---
---
During this time when we can't be together physically, the Cathedral is offering the following online services and events to keep us all connected.
Sunday
Children's Worship Time via Zoom, takes place from 9:15-10 a.m.
This meeting includes some social time, music, a Bible story and prayer. Contact Linda for the meeting link, childrensmusic@kccathedral.org.
Tuesday
Please join us for our weekly conversation in GHTC's Digital Cafe! Tuesday mornings from 7:30–9 a.m. To join, click here. Meeting ID: 568 607 781 Password: 582827. You may also dial in by phone: 312 626 6799.

Women's Bible Study meets via Zoom at 12:30 p.m. WBS has begun a new study using Opening the Bible by Roger Ferlo. For more details, visit our WBS page or contact Candy McDowell at candyleemc@att.net.

Wednesday
Noonday Prayer will be livestreamed from the Nave at 12 noon. Watch on Facebook or YouTube. Bulletins are here.

At 6:30 p.m. is our Dean's Forum & Compline via Zoom. Dean Andy is teaching an Episcopal 101 class for anyone wanting to learn more about the Episcopal Church. Check out the Dean's Forum page on the Cathedral website for more information. To join the Zoom session, click here. Meeting ID: 424 683 903 Password: 138017.

For our livestreamed events, visit our Facebook page or YouTube channel to watch. (Click here for more detailed information.) You can download a digital bulletin here.
---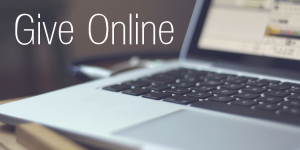 During this time when we can only worship online, we would like you to consider giving online as well. Thank you for your generosity. Offerings may be made by clicking here.
---
Please help us continue to do the important work of the Cathedral. Here are some ideas on ways you can contribute to social outreach while still practicing physical distancing.
Donations
Organizations helping those in need could use your support now more than ever.

Reminder—July Donations
During the month of July we will be collecting school supplies for the children at Crittenton, both in residence and foster care. The need is greater now than ever. Watch for details about parking lot drop off times toward the end of the month.

As always, you may contact organizations directly, or you may give online through the Cathedral's Social Outreach fund.
Donate Blood
During this time of the COVID-19 Pandemic, the Community Blood Center is running dangerously short of blood. Please consider giving blood, if you are able. They have made arrangements for you to be able to donate with little physical contact. You can get more info at the Community Blood Center website.
Birthday Gift Cards for Foster Children
Help a child in the foster care system by donating $25 for a birthday gift card. These gift cards are given to children who do not receive any other gifts to celebrate their birthdays. Please consider this very special ministry of making children feel special on their birthdays.
Pray for Outreach Organizations
Please remember in your prayers all the organizations working to help those less fortunate.
Contact Terri Curran, tcurra2@yahoo.com, for more details.
---
If you are experiencing difficulties due to the COVID-19 virus, the Cathedral may be able to help. Contact the office to learn more.
---
For more resources, including job opportunities, visit downtownkc.org.
---
The Diocese of West Missouri has compiled a list of links and resources. Visit their website to read more.
We will continue to give updates as we have them. Thank you for continuing to pray and check in with those who are isolated during this time.