Our Dean Search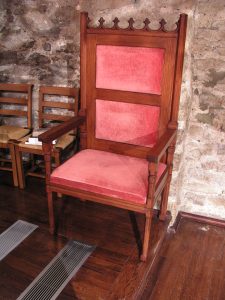 The people of GHTC are on the verge of a major change in our life in Christ as we continue our search for a new Dean. It is a period of conversation and prayer (lots of prayer!) as we determine who we are as the body of Christ, look back at where we have been, and figure out where we hope to go. We are led in this journey by our Interim Dean, the Very Rev. Evelyn Hornaday. You can read more about the transition and search process at the links below.
The Search Committee's current tasks are to finalize the information packet that will be posted to the website of the national Episcopal Church (Office of Transition Ministry), and write a new Parish Profile that will be distributed to the congregation and prospective applicants.
---
Search Committee Update ⋅ January 2019
The Dean Search Committee was appointed by the Vestry in September. We are now hard at work, reviewing and synthesizing your input from the Cathedral Conversations and the online/print survey. Using that data, we will prepare a Parish Profile, which will outline who we are as a Cathedral, who we want to be and what qualities we are seeking in a new Dean. Once the Parish Profile is published, the Committee will be seeking, vetting and interviewing candidates for the Dean's position. We will then make finalist recommendations to the Vestry.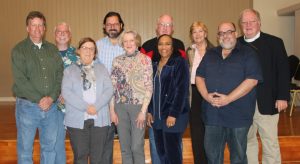 The other members of the Committee are (l-r in the photo) Chris Morrison, Ken Stewart, (Clerk), Joan Bergstrom, Brian Cowley (Chaplain), Paget Higgins, Paula Livingston, Don Chase, Ellen Goheen, and Mark Galus. Paula Connors, in her role as Senior Warden of the Vestry, is an ex-officio member of the Committee and Vestry liaison. And the Rev. Dr. Steve Rottgers (far right), Canon to the Ordinary for the Diocese of West Missouri, is the Diocesan Transition Officer, helping to guide us through the process. We will provide you with updates throughout the process, either by email or social media or posting information on this page of the Cathedral's website.
Please keep the Committee in your prayers as we undertake these responsibilities. If you have any comments, questions, or concerns about the process, please feel free to contact us at ghtcdeansearch@gmail.com. Or just say hello and ask us about it at church.
Mark Galus
Dean Search Committee Chair
---
The Very Reverend Evelyn Hornaday, Interim Dean