Our Dean Search
Search Committee Update ⋅ May 2019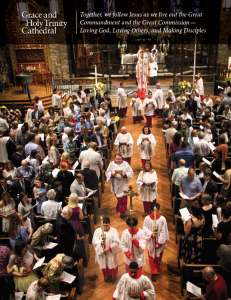 I'm happy to report that our Parish Profile has been completed and is now available. (Download the 2019 GHTC Parish Profile here.) The Profile was a collaboration between the Committee and the Vestry, and a small subcommittee composed of members from both groups met to hammer out the final details. Those subcommittee members were Paula Connors, Jeff Johnson, and Ron Michka from the Vestry, and Paget Higgins, Chris Morrison, and me from the Committee. A special word of thanks to Ron Michka, who contributed mightily to the final layout of the Profile and whose expertise in this regard was invaluable.
In addition to the Profile, the Committee submitted the Cathedral's portfolio with the Episcopal Church's Office of Transition Ministry in mid-April, allowing our information to be accessible to prospective candidates from around the country. From this, as well as from a posting of the position with the Episcopal News Service in early May, we have already received a handful of applications for the position, not to mention several phone calls and communications seeking more information about the position.
This week, the Committee will begin the process of evaluating applications. We will keep you apprised of our progress, though the information provided will not contain any specifics about the applicants, as this is a confidential process. Even the Vestry will not know specifics about these individuals until finalists are submitted for the Vestry's consideration. So, if you happen to see a Committee member and creatively look for ways to get the inside scoop on the candidates, please don't be offended when the Committee member politely declines to provide any information.
It is still our fervent hope, and a realistic goal at this juncture, that the Bishop and the Vestry will be in a position to call a new Dean this summer, with that individual to commence ministry in the fall.
As always, if you have any questions or concerns about the Committee's work, please don't hesitate to contact me or one of the members. Please continue to keep us in your prayers.
Mark Galus
Dean Search Committee Chair
---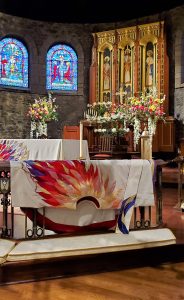 The people of GHTC are on the verge of a major change in our life in Christ as we continue our search for a new Dean. It is a period of conversation and prayer (lots of prayer!) as we determine who we are as the body of Christ, look back at where we have been, and figure out where we hope to go. We are led in this journey by our Interim Dean, the Very Rev. Evelyn Hornaday. You can read more about the transition and search process at the links below.
The Search Committee's current task is to accept applications from interested priests and determine which candidates they will interview as they work their way toward a selection.
---
The Very Reverend Evelyn Hornaday, Interim Dean