Our Dean Search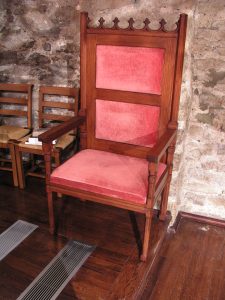 The people of GHTC are on the verge of a major change in our life in Christ as we continue our search for a new Dean. It is a period of conversation and prayer (lots of prayer!) as we determine who we are as the body of Christ, look back at where we have been, and figure out where we hope to go. We are led in this journey by our Interim Dean, the Very Rev. Evelyn Hornaday. You can read more about the transition and search process at the links below.
The Search Committee's current tasks are to finalize the information packet that will be posted to the website of the national Episcopal Church (Office of Transition Ministry), and write a new Parish Profile that will be distributed to the congregation and prospective applicants.
---
Search Committee Update ⋅ March 2019
The Committee is working with the Vestry to finalize our portfolio with the Episcopal Church's Office of Transition Ministry (which will be used to match up with prospective candidates across the country), as well as our Parish Profile, which will be posted on the Cathedral's website when completed.
These documents should be finished by the first week of April, at which time we will start accepting applications for the position. Applications will be accepted through mid-May (though that might change depending on the response).
The Committee plans to review the applications on a rolling basis – evaluating them as they come in instead of waiting until the end of the application period before reviewing them.
If all goes to plan (God willing) with our vetting and interviews and prayerful consideration, we are still hopeful that the Vestry and the Bishop will be in a position to call a new Dean this summer.
As always, if you have any questions or concerns about the Committee's work, please don't hesitate to contact me or one of the members. Please continue to keep us in your prayers.
Mark Galus
Dean Search Committee Chair
---
The Very Reverend Evelyn Hornaday, Interim Dean