Growing in Faith Together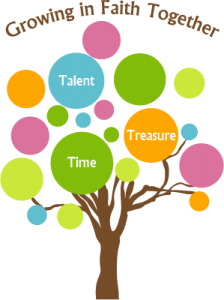 Growing in Faith Together
Dear Parishioners & Friends,
Thanks to all who have contributed their time, talent and treasure to the Cathedral over the past year. We now begin our stewardship campaign for 2017. We are seeking pledges of financial support from our parishioners, with a goal of $450,000. We will bless the collected pledges at all services on Commitment Sunday, November 13, 2016.
The Vestry is finalizing a Strategic Plan, a statement of priorities with respect to the mission and ministry of the Cathedral. The Strategic Plan is based upon more than ten years' worth of feedback from parishioners, staff and clergy. The Strategic Plan will serve as a guiding instrument in fulfilling our mission to be "A Servant Church in the Heart of the City."
Your pledges of financial support are critical to this mission. Pledges help the church prepare a budget for the coming year and plan uses for that money consistent with our priorities. When determining your pledge amount, through prayer and reflection, we ask that you give sacrificially, meaningfully and joyfully. The Bible makes numerous references to the tithe (giving 10% of your income to the church). We hope that parishioners will become proportionate givers—moving towards, to and even beyond the tithe—which will enable us to joyfully proclaim the Good News of Jesus Christ.
For those who have made the Cathedral your spiritual home, who come to this place for worship, discovery, learning, care and fellowship, please make a pledge to the Cathedral that reflects your heart's commitment. For where your treasure is, there your heart will be also.
Faithfully yours in Christ,
Mark Galus
Senior Warden of the Vestry
You may —

Pledge online below.
Return a completed pledge card to the church office.
Bring your pledge card to church on Sunday and place in the offering.
---
Pledge Form
When you are done, please print a copy of this pledge form for your records.
As a steward of God's gifts, in gratitude for all God's blessings and to further the ministry through Grace and Holy Trinity Cathedral, I/we offer this pledge.
When you are done, please print a copy of this pledge form for your records.