Stewardship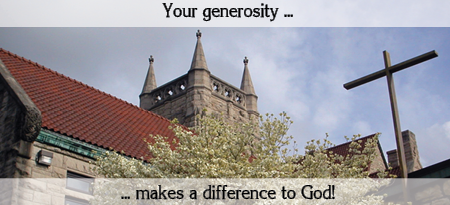 As we look ahead to 2019 and the selection and arrival of a new dean for GHTC, we offer our sincere gratitude for your love and support of our Cathedral. We are so privileged to share ministry with each other in this holy place.
In 2019, we will be calling a new dean, a priest with the gifts and experience to lead us into a brilliant future burnished by the power of the Holy Spirit. A 2019 pledge from you of at least 10% more than you're giving in 2018 will allow us to offer a healthy picture of who we are to the priest that God has already tapped for us. May we please count on you to prayerfully consider increasing your pledge today?
It's possible to fulfill your pledge to the Cathedral weekly, monthly or even once a year. Your gifts and pledges to GHTC provide the many extraordinary ministries and programs we offer and help give us the foundation needed to propel us into the future, a future that includes inspired leadership from our new dean.
Thank you for helping us share this holy vision of God's grace with you and the world.
You may —

Contact any of the Cathedral clergy or email Cathedral Administrator Julie Toma.
Return a completed pledge card to the church office.
Bring a pledge card to church on Sunday and place in the offering.
Fill out the following form.