The Way
You are invited to come along the journey.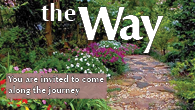 The Way is for you if …
You would like to explore what it means to follow Christ
You would like to explore and know more about the Episcopal Church
 You are new to the Cathedral, and desire baptism or would like to grow in faith
 You have been around Church for a long time, and would like to renew your journey of faith
Community and sharing is at the center of The Way. Each evening begins with a simple meal and table conversation. This is followed by a learning, small group Bible study and discussion. Links are made between daily life and work and the worship and practice of the church. Emphasis is given to understanding what it means to live into one's baptismal promises. Sessions conclude with quiet reflection and prayer.
The Way takes its name from the Acts of the Apostles in the New Testament where the followers of Christ are referred to as people "belonging to the Way."  The Way is a process for faith formation, or catechumenate, at Grace and Holy Trinity Cathedral. Persons participating in The Way may prepare for baptism or affirmation of faith at the Great Vigil of Easter.
Interested? Contact the Dean's office: 816-474-8260 or theway@kccathedral.org.
Beginning the Way
Wednesday Evenings, 6-8 PM
    6:00 PM   Supper & Table Conversation
    6:30 PM   Teaching
    7:00 PM  Bible Sharing in Small Groups
    7:55 PM   Gathering for Sending Prayer
The Way Epiphany Sessions                         Discerning the Faith Journey
January 4, 11, 18, 25, February 1, 8, 15, 22
A Rite of Welcome for all those in The Way takes place on Sunday, January 15.
Prior to Ash Wednesday, March 1, and the beginning of Lent, those desiring baptism, confirmation, to reaffirm their baptism, or be received into the Episcopal Church (Catechumens) indicate their intention to do so.
Baptism takes place at the Easter Eve Vigil, April 15. Confirmation, Reaffirmation, and Reception take place at a diocesan-wide service held during the Easter Season.
The Way Lenten Sessions                                       Preparing for Initiation
March 1, 8, 15, 22, 29, April 5
March 1, Ash Wednesday- We meet for a simple meal prior to attending the liturgy at 7:00 PM.
During Lent, Contemplative Eucharist is celebrated at 5:30 PM in the Cathedral Nave.
On the First Sunday in Lent, March 5, those desiring baptism, to affirm their baptism, or be received into the Episcopal Church are enrolled as Catechumens.
Catechumens are given the Apostles' Creed, the Third Sunday in Lent, March 19 and Lord's Prayer on the Firth Sunday in Lent, April 2.
At Easter, participants in The Way join in keeping the Great Three Days, called the Triduum, Maundy Thursday, Good Friday, Easter Eve, April 13, 14, & 15.
The Way Easter Sessions                                            Living "Mystagogia"
May 3, 10, 17, 24, & 31
The meaning of the Sacraments, living as a baptizing community in Christ, and discerning spiritual gifts provide the focus for the Easter sessions.
The Way concludes on the Day of Pentecost, Sunday, June 4.
HELPFUL LINKS
Prayer
Scripture
News
Podcasts
The Dean's Forum – The Cathedral of St. Philip, Atlanta, GA
Reasons to Be an Episcopalian
Jesus Was an Episcopalian – Introduction
Jesus Was an Episcopalian – Roots
Presiding Bishop Katharine Jefferts Schori answers the question, "If I didn't go to church, what would you tell me to get me to visit an Episcopal Church?"
Apps