Advent and Christmas at the Cathedral
Advent and Christmas are especially beautiful and meaningful times at Grace and Holy Trinity Cathedral.
Join us as we anticipate and celebrate the birth of Jesus.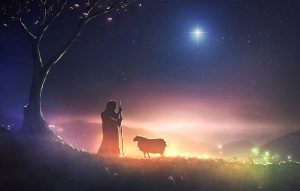 Christmas Worship
Monday, December 24 • 5 p.m.
Our children tell the Christmas Gospel story through their pageant. Nursery care provided for children three and younger.
Monday, December 24 • 10 p.m.
Join us as we celebrate the birth of Christ. Traditional, familiar carols and service music will be featured.
Tuesday, December 25 • 10:15 a.m.
Greet the Incarnate Lord on Christmas morning with a celebration of Holy Eucharist with carols and organ music.
Trinity Teens
Sundays in Advent • 9:30 a.m.
Wednesdays in Advent • 7 p.m.
Advent Potluck
Wednesday, December 12
7 p.m.• Haden Hall Youth Room
Our last youth group meeting of the year will be a festive Advent potluck with games and lots of fellowship! Youth in grades 6–12 are invited to bring a "Christmas Dinner" side dish and join in the fun!
Family Ministry
Children's Formation
Sundays in Advent
During Advent, children in chapel and Godly Play will use an Advent wreath to prepare for the mystery of Christmas. Chapel lessons will follow the Old Testament lectionary readings. We will stop, listen for and hear the stories of the prophets reminding us of the hope and light we are given through Christ. In Godly Play, the children will hear stories which will move toward Bethlehem and the lighting of the Christ candle on the Advent wreath.
One & Only Pageant Rehearsal
Sunday, December 16 • 11:45 a.m.–12:15 p.m.
Children are encouraged to come to the One & Only Rehearsal—it helps to have people who know what's happening! Meet in the back of the Nave following the 10:15 a.m. service.
Christmas Eve Pageant and Eucharist
Monday, December 24 • 5 p.m.
All children are welcome to participate in the pageant. No lines to learn, and simple costumes will be provided. Children should arrive by 4:30 p.m.
Epiphany Sunday
Sunday, January 6  
Children are invited to dress as kings (we provide the costumes) and process with the gifts during the offertory. After the service, all are invited to enjoy some King Cake at coffee hour.
Questions? Please contact Julie Brogno, 816-474-8260 or childrensformation@kccathedral.org.
Volunteer • Donate
Bring Food for St. Mary's Pantry
Help stock the pantry for the holidays. Bring donations to the large basket in the Tower. Please focus on canned/boxed items appropriate for a holiday dinner, such as French-fried onions, canned sweet potatoes, canned cranberry sauce, canned pie fillings and boxed cake mixes, etc.
Buy Stocking Stuffers for Crittenton
This year Outreach will be collecting items for stocking stuffers for the teens in the residential program at Crittenton Children's Center. Some of the suggested items include: small stuffed animals, decks of cards or card games (Uno, Skipbo, etc.), gel pens, journals (not wire bound), coloring books (for teens), chap stick/lip gloss, fun socks and gloves (for females and males), and water bottles. Please remember these teens as you are doing your holiday shopping.
Help needed for BackSnack during the holidays!
Make the holidays happier for others by volunteering. Help by preparing bags for our weekly BackSnack deliveries, filling family bags on December 16 for BackSnack children for the two-week Christmas break or volunteer to be substitute drivers, delivering packed BackSnacks to schools.  Contact Terri Curran, tcurra2@yahoo.com or 816.444.0221.
The Kansas City Community Kitchen Christmas Dinner and Free Store—Saturday, December 22, 11:30 a.m.
Sign up to volunteer at the dinner and to donate funds and items for the warm clothing "Free Store." Visit nourishkc.org for more information.
Gifts for Flowers & Greens
Flowers and Greens designed and provided by Trapp and Company will once again adorn the Cathedral. Your gift in memory of or in thanksgiving for a loved one helps provide festive decorations for Christmas Eve through The Feast of the Epiphany.  This visual proclamation of the glory of the Incarnation adds so much to our celebration of the birth of Jesus Christ.
Please use the Gifts for Christmas Flowers & Greens envelopes you can find in the Nave or contact the Cathedral office with the following information:
The names of those you wish honored or the blessing(s) you wish to name.
Your name as donor (optional).
Please contact us or return the envelope to the office by Tuesday, December 11.
Thank you for your generous gift in celebration of Christmastide!
Sounds of the Season
Mesner Puppet Theater presents The Nativity
Friday, November 30 • 10 a.m. and 7 p.m.
Saturday, December 1 • 2 p.m. and 5 p.m.
Sunday, December 2 • 3 p.m.
(These are a ticketed performances. Visit mesnerpuppets.org.)
Advent Lessons & Carols
Sunday, December 2 • 5 p.m.
Bach Home for the Holidays
Tuesday, December 4 • 7:30 p.m.
(This is a ticketed performance. Visit kcchamberorchestra.org.)
The City Come Again
Monday, December 10 • 12 noon
Presented by William Jewell College
Messiah Singalong
Saturday, December 15 • 4 p.m.
Candlelight, Carols & Cathedral
Sunday, December 16 • 2 p.m.
The William Baker Festival Singers
(This is a ticketed performance. Visit festivalsingers.org.)