Welcome to Grace and Holy Trinity Cathedral
| | |
| --- | --- |
| | Grace and Holy Trinity Cathedral is a thriving, growing Episcopal parish in downtown Kansas City, Missouri, and is the central parish in the Diocese of West Missouri. Guests and newcomers are always welcome. |
OUR VALUES
We place a high priority on worship, Christian formation, fellowship and outreach.  Through worship we praise God.  Through Christian formation for all ages, we attempt to know Christ better and his will for our lives.  Through fellowship we seek to know and support each other.  Through outreach we minister to others in Christ's love.
ABOUT US
We are an inclusive community encompassing young and old, rich and poor, single and married/partnered, gay and straight.  We are united by our witness of Christ's redeeming love and the challenge of leading faithful lives in our complex world.
AN INVITATION
Come visit us and discover the many opportunities for involvement in study, social, spiritual and service groups!
WEEKLY SCHEDULE
Sunday
You are invited to visit any of our three Sunday Holy Eucharist services,
8:00 a.m. (mostly spoken service)
10:15 a.m. (Choral Eucharist)
5:00 p.m. (Order for Evening and Holy Eucharist)
Also on Sunday, join us at 9:15 a.m. for Christian Formation classes for all ages. Children (age 3-grade 8) learn in age-appropriate settings while adults gather to study the Bible and engage in thoughtful conversation. The nursery is open for children ages 2 and under for our morning services and classes.
Weekdays
At 12:05 p.m. each weekday, join us for worship.
OUR LEGACY IN KANSAS CITY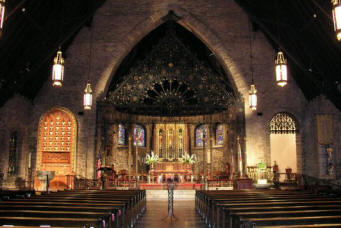 Since 1870, Grace and Holy Trinity Cathedral and its forebears have been a fixture of downtown Kansas City where congregations have gathered for worship, fellowship, service and witness to Christ. Grace and Holy Trinity serves as the Cathedral Church (the Bishop's seat) of the Diocese of West Missouri of the Episcopal Church and as a vibrant parish church whose members come from all over the greater Kansas City area. We are a house of prayer for all people and you are warmly invited to take part in the rich and varied life as the people of God in this place.
TWO CATHEDRALS
Grace and Holy Trinity Cathedral is an active partner with the Cathedral of the Immaculate Conception of the Roman Catholic Diocese of Kansas City-St. Joseph.
Read more about the long and fruitful relationship between the Cathedrals.